Circulatory System Webquest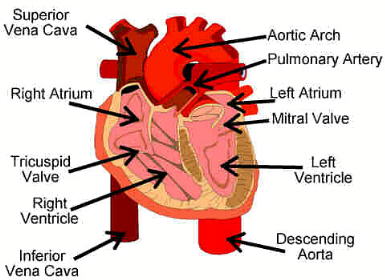 Your task today is to create a glogster about the circulatory system. To create your Glogster please click here. I will write the log in information on the white board.  All Glogsters will be due by the end of the class period.
To gather the information you will need to create your glogster, you will need to use Kids Health. The answers to the questions must be present in some form on your glogster. You may also include any information that you found interesting or information that you find relevant to the circulatory system.
QUESTIONS TO ANSWER
1. What is your heart known as?
2. With what two things does your blood supply your body?
3. By the time you are grown up, how many times a minutes will your heart have a beat?
4. How many different areas is your heart made up of?
5. What are the different parts of the heart?
6. On your heart, what two chambers on the top fill with blood?
7. On your heart, what two chambers on the bottom fill with blood?
8. What is your heart really good at?
9.  How long does it take your heart to pump blood to every cell in your body?
10. Every time your blood circulates. about 20% of it goes through what?
Questions originally from: http://www.greenville.k12.sc.us/beck/students/sci/circ.pdf
How you share this information and design your Glogster is up to you. Your Glogster will be unique to you and should not look exactly like another students. This is your opportunity to be creative and original. Keep in mind that even though we will be presenting our information via glogster, this will need to be an academic presentation. Your Glogster should not include non-relevant pictures (i.e. Lakers logos, snapbacks, etc), emoticons ( i.e. 
 ^-^, etc), or slang terminology (i.e. lol, Yeahhh Buddy, etc). If you are not sure if a picture is relevant ask your self "Does this picture add or help support the information I am including on the glog or is it just cool to look at?"